When is the Best Time to Visit Edinburgh?
Edinburgh is perhaps Scotland's most famous city, and with good reason. A city that is steeped in history and yet vibrant, diverse and modern, Edinburgh is a place that blends past, present and future making it one of the most interesting cities to visit in the United Kingdom.
A trip to Scotland would not be complete without some time spent exploring the streets of Edinburgh and, luckily, that is an easy dream to achieve. Inspiring Travel Scotland has a range of Scotland tours that all begin in Edinburgh and, depending on what you want to do, you can travel through the rest of the country from there! And if you're looking for something truly special, we can customise your tour of Scotland so that it's a truly unique experience. 
So, now that you know how easy it is to visit this beautiful city, there remains the question: When is the best time to visit Edinburgh? Luckily, Inspiring Travel Scotland is here to help. Whether it's cost, weather, or busy crowds you're concerned about, we'll help you figure out the best time to visit Scotland's incredible capital city.
When is the Cheapest Time to Visit Edinburgh?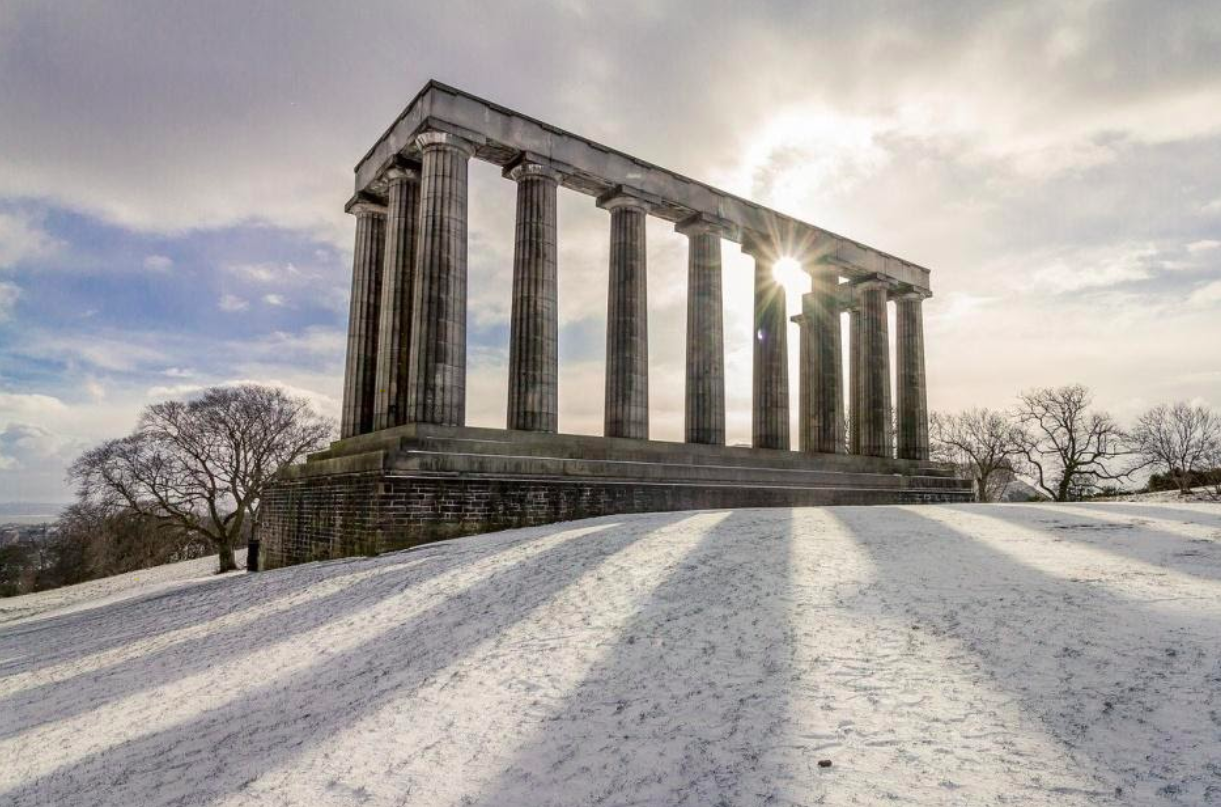 Calton Hill, Edinburgh
In terms of cost, prices in Edinburgh don't tend to fluctuate that much over the course of the year. This is mainly because there is always something going on in the city. However, February is perhaps Edinburgh's least busy month so if you are looking for a deal this is going to be the time you'll find one. 
January and February are when the city is at its coldest but don't let that put you off! The crisp air and occasional snow give Edinburgh a magical quality that may have you thinking you have stepped into a fairy tale. The days are short so you will get the chance to see the whole city lit up and if you get a little cold you can always stop for a wee dram of whiskey in a friendly pub, or simply explore one of the many indoor attractions the city has to offer!
When is Edinburgh's Weather Best for Visitors?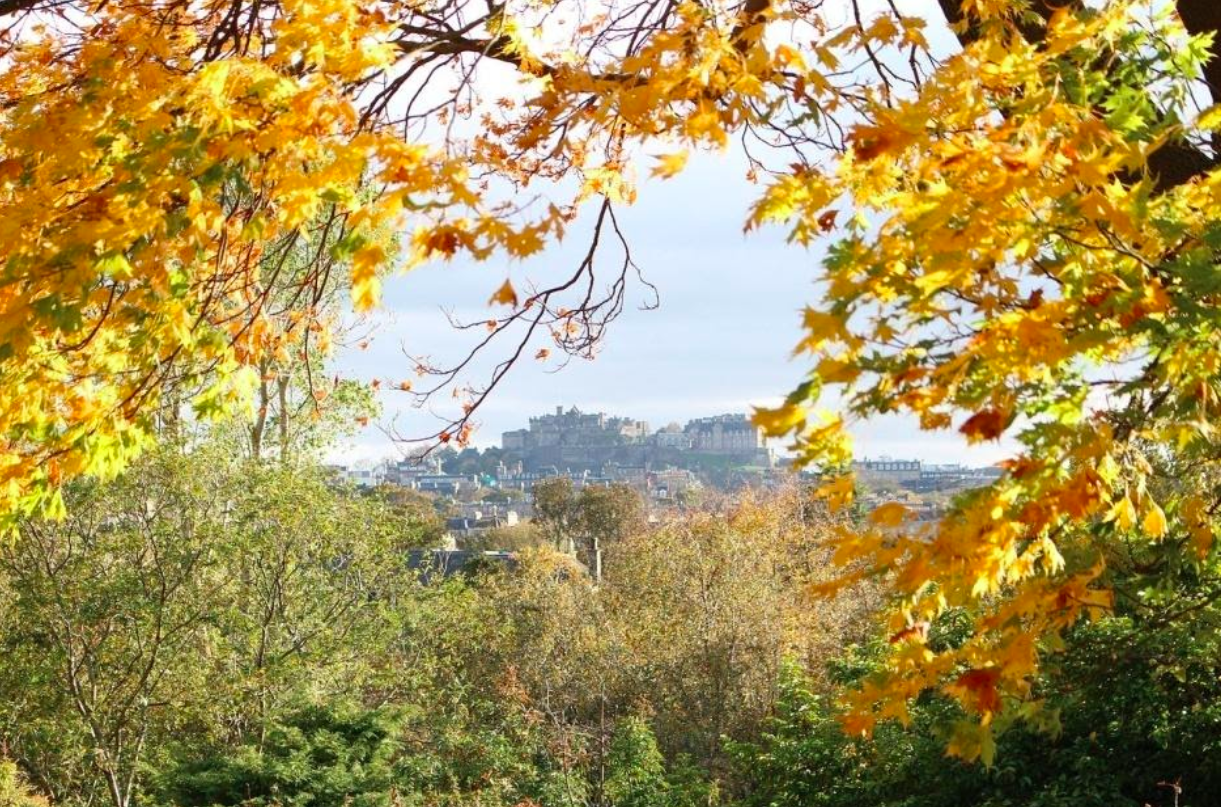 View of Edinburgh Castle
If you want to visit Edinburgh at its hottest, then July is the best month for you. Temperatures reach an average maximum of 68°F (20°C) but often can reach as high as 86°F. The days are long, and the city is buzzing with activity.
However, our top tip is to visit Edinburgh in either spring or fall. An Edinburgh fall can be a little on the wet side, but the days are still long, the temperature is temperate, and it's the perfect time to wrap up in a warm scarf and explore the city under the golden leaves of the trees. 
Spring brings with it a riot of colour. Edinburgh is full of parks (more than any city in the UK), gardens and green spaces and in the spring time these areas are bursting with snowdrops, crocuses and daffodils. Spring is usually fairly dry and the days are starting to lengthen so it's a wonderful time to enjoy the outdoors. 
When is the Peak Tourist Season in Edinburgh?
Street Performers, Edinburgh Fringe Festival
Edinburgh attracts people to it all year round but its peak tourist season is summer as the city becomes the artistic centre of Europe. With several festivals celebrating all branches of art and creativity taking place within the city all summer long there is a wealth of events that has the city throbbing with energy and the streets crowded with performers and audience alike. The Edinburgh Fringe Festival, the Edinburgh International Festival, and the Royal Edinburgh Military Tattoo are particular highlights.
Most events take place from the end of July and stretch through August but the festival season is usually kicked off by Edinburgh Film Festival in June. 
What Edinburgh Events are Unmissable?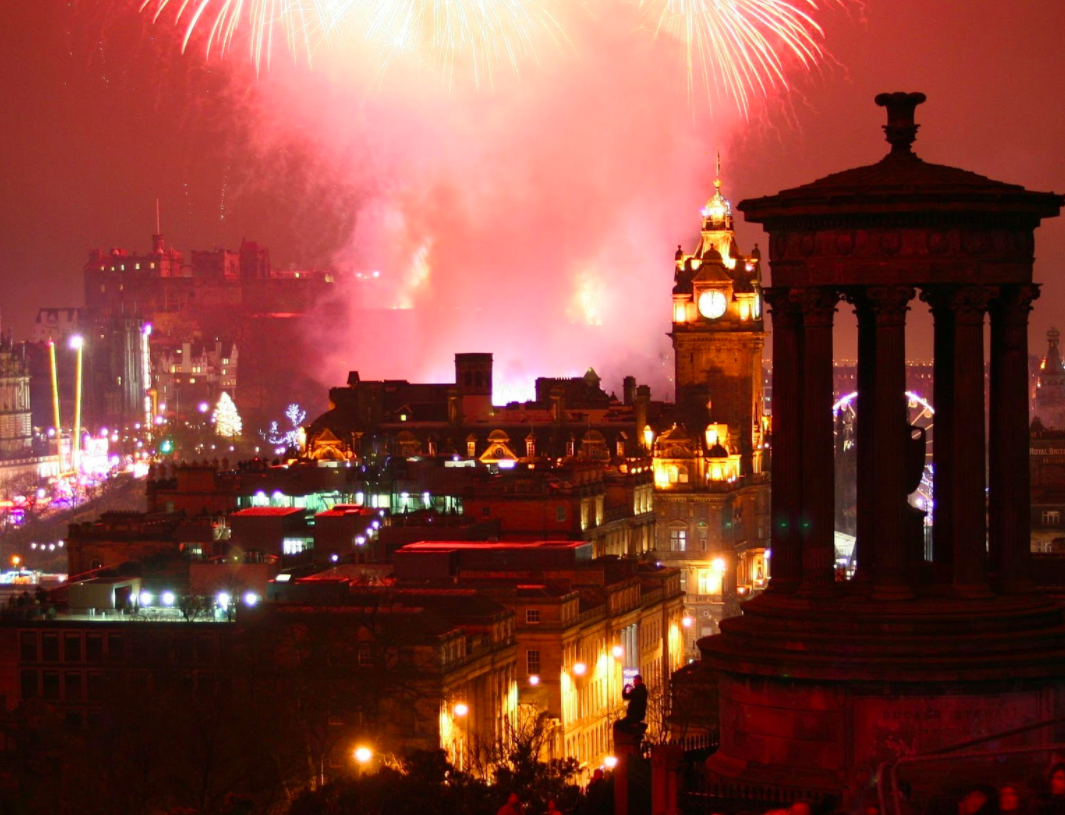 Edinburgh Hogmanay Fireworks / Robbie Shade / Creative Commons
Well we've already covered some of the unmissable events in Edinburgh with Edinburgh's summer arts festivals, but there are other events to enjoy throughout the year! 
In April, the Beltane Fire Festival celebrates the changing of the seasons. This spectacular event follows ancient Celtic traditions with fiery displays, immersive storytelling and elaborate costumes as people transform into all manner of otherworldly creatures. 
October sees another ancient tradition in the Samhain festival – the original Halloween – which marks the end of the harvest season and the beginning of winter. This leads into Edinburgh's beautiful Christmas season, which is full of markets and general good cheer as the city prepares for one of the biggest New Year parties in Britain – Hogmanay! 
So there you have our guide on the best time to visit Edinburgh. But putting cost, weather, tourist attractions and events aside for a moment, we reckon the best time to visit Edinburgh is as soon as possible – once the coronavirus lockdown has lifted and it's safe to travel again! If our tours have caught your eye or you simply want more information, don't hesitate to get in touch. Even before you book anything, start planning your once-in-a-lifetime Scotland tour with Inspiring Travel