Scotland is one of the most romantic countries in the world, with its rugged landscapes and its rich history. Nothing quite encapsulates these aspects of Scotland's personality quite like a castle – and Scotland has been blessed with so many castles. There is the most famous Castle of all that you can't miss – Edinburgh Castle  – but this is a list of some of the lesser-known castles. Here are Inspiring Travel Scotland's 10 best castles in Scotland that will have you thinking you've stepped into a fairy tale:
10. Dunrobin Castle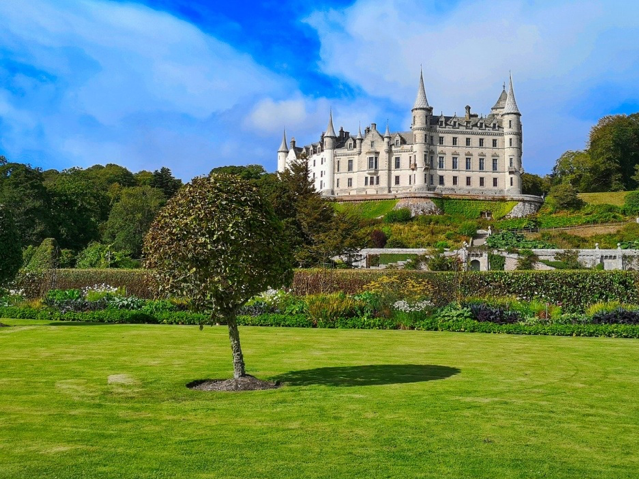 Dunrobin Castle doesn't quite seem real when you see it. An architectural wonder, on the northern coast of Scotland, it dates back to the 1300s and is the largest castle in the highlands. Calling to mind a French Château, its exterior was designed by Sir Charles Barry – the man who designed the Houses of Parliament in London – whilst its interiors were designed by Sir Robert Lorimer.
9. Floors Castle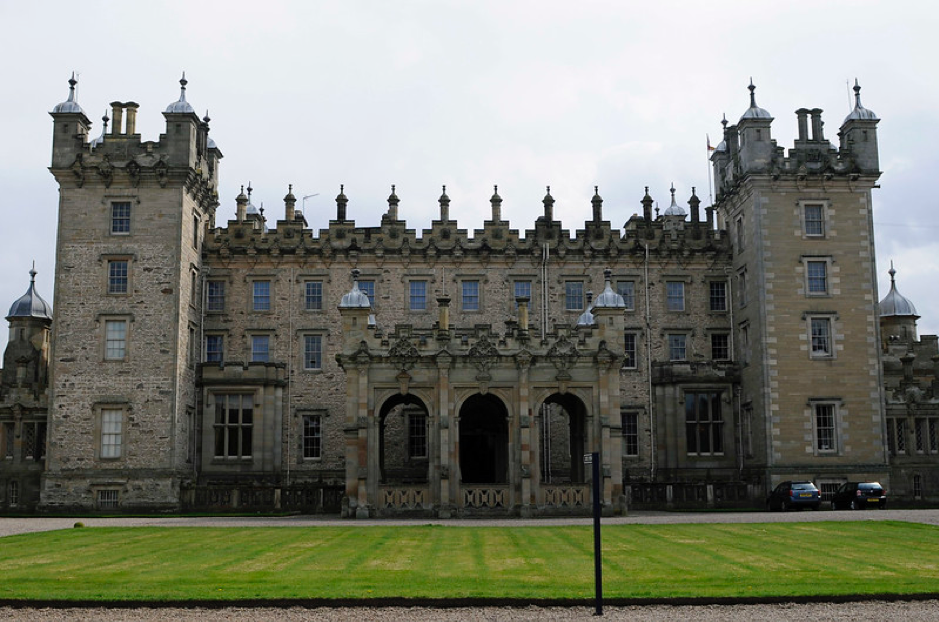 Home to the Duke and Duchess of Roxburghe, Floors is the oldest inhabited castle in Scotland. This makes it a rather exciting place to visit because it is a castle evolving with each generation that has lived there. Nestled in the Scottish Borders this gorgeous castle is surrounded by stunning grounds for the whole family to explore.
8. Dunvegan Castle & Gardens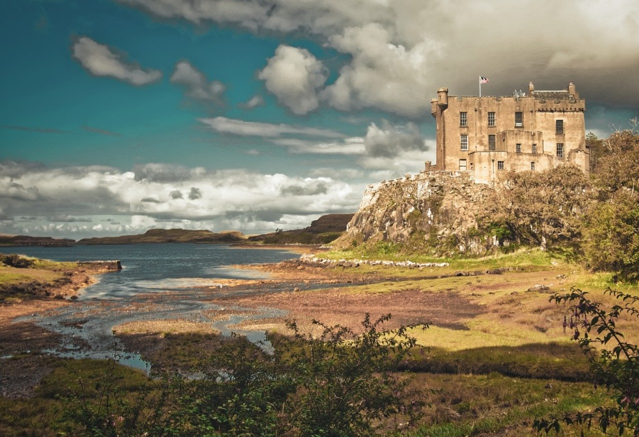 A trip to the Isle of Skye would not be complete without visiting Dunvegan Castle and its grounds. An imposing fortress carved into sheer rock, Dunvegan Castle stands proudly against a landscape of incredible beauty. The ancient home of the famous clan MacLeod, there is a rich history to be discovered here. Be sure to look out for the fairy flag!
7. Caerlaverock Castle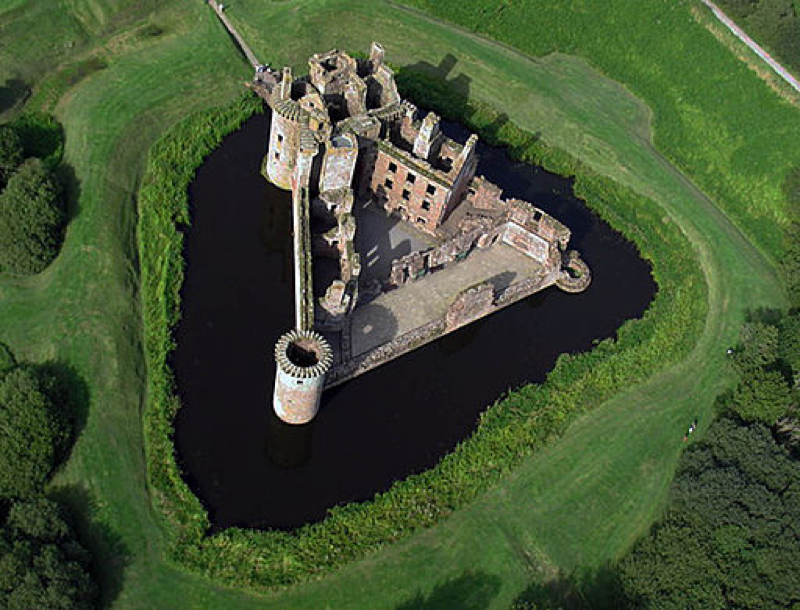 Simon Ledingham / CC BY-SA (https://creativecommons.org/licenses/by-sa/2.0)
Caerlaverock Castle in Dumfries, is perhaps one of the most unique castles not only in Scotland, but in Britain. With its moat, its unusual triangular design, and its strong defensive walls, this castle has seen its fair share of siege warfare. Caerlaverock is steeped in history, both social and natural. Within the castle grounds there are 15 habitats and many rare animals and plants survive there. This makes this castle a must for nature lovers.
6. Drummond Castle Gardens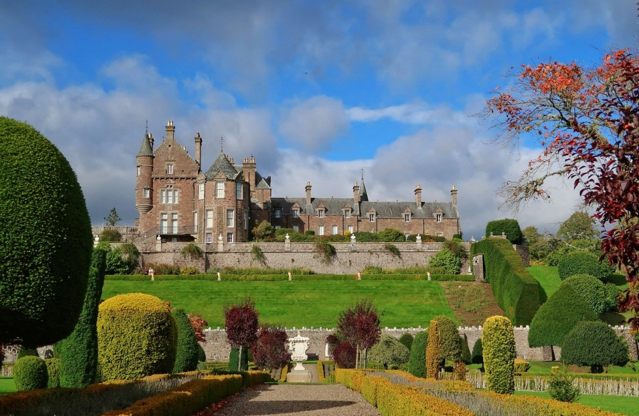 Many of you will recognise Drummond Castle from the TV show Outlander. The castle and its gardens stand in for Versailles in Outlander's season two and when you see them in person it's not hard to see why! Drummond Castle Gardens is one of the most important and impressive formal gardens in Europe. If you want to experience the true romance of Scotland Drummond Castle Gardens has to be on your list. And if you want a trip with as many Outlander locations as possible, check out our Scottish Outlander Tour. Keep in mind that we can edit this tour's itinerary to suit your needs and desires!
5. Urquhart Castle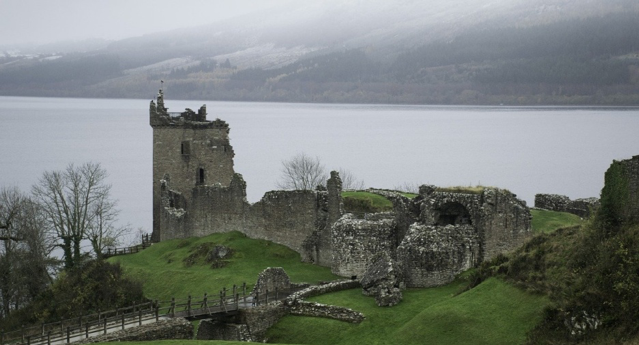 Urquhart Castle is most famous for where it stands, on the shore of Loch Ness. Once one of Scotland's largest castles, it has witnessed some of the most important chapters in the country's history. Strategically placed on a rocky promontory, there have been many alleged sightings of the infamous Loch Ness Monster from Urquhart's walls. Perhaps you can spot the monster too…
4. Stirling Castle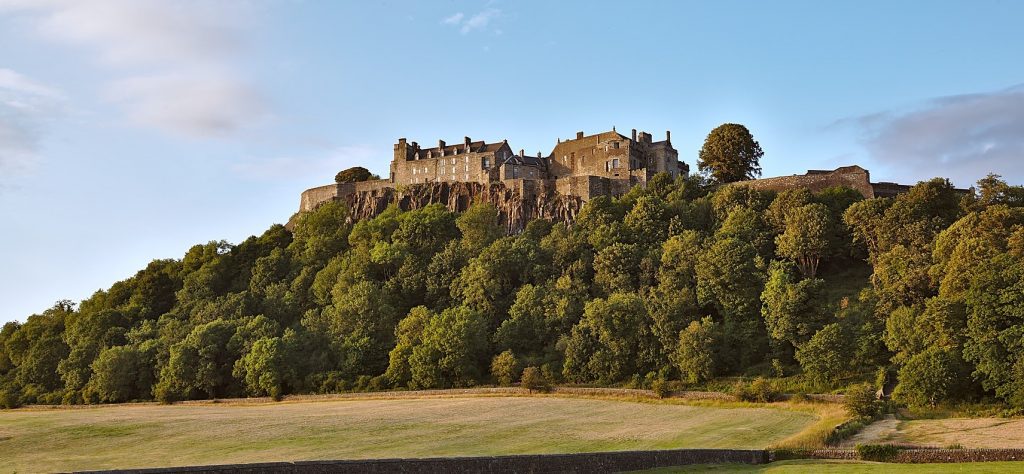 Stirling is known as the gateway to the Highlands. Sitting impressively atop a craggy hill nearby, keeping watch over the surrounding area, is the guardian of that gateway, Stirling Castle. This strong defensive position was of great strategic importance and is also steeped in history, several Scottish Kings and Queens have been crowned there including Mary Queen of Scots.
3. Dunnottar Castle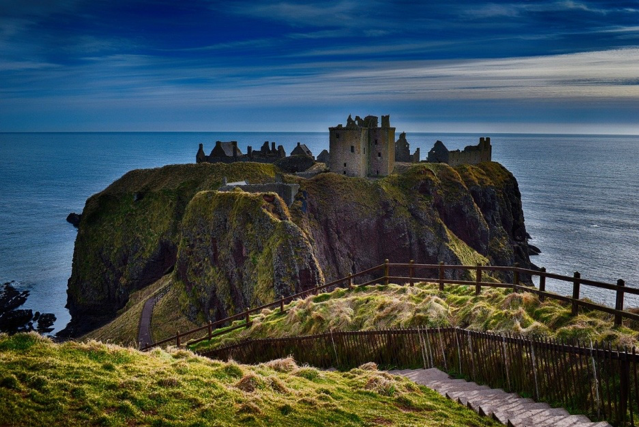 Perhaps one of the most dramatic castles you will ever visit, Dunnottar Castle has a haunting beauty that, once seen, can never be forgotten. There has been a building of some kind here since the 4th century, but the fortress that remains was built in the 14th century and there is a colourful history to discover within its ruins. An iconic destination, Dunnottar castle is a photographer's dream.
2. Eilean Donan
Some say that Eilean Donan is the most beautiful castle in Scotland. It is certainly one of the most iconic. Film fans might recognise it from numerous films, including Highlander and The World is Not Enough, and it is a must see in our opinion. Standing on an island at the point where three great sea lochs meet, Eilean Donan is incredibly striking.
1. Glamis Castle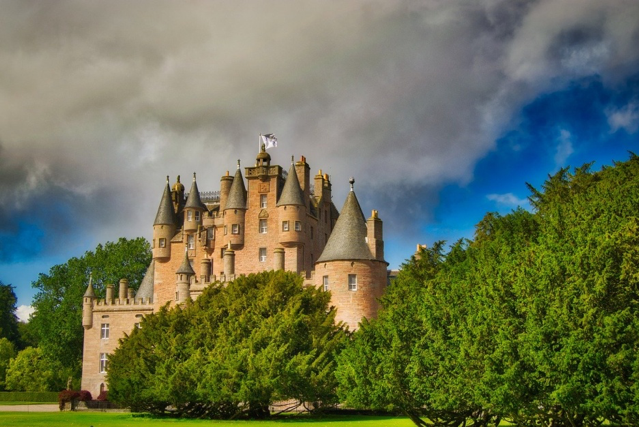 There is nothing more Scottish than Shakespeare's Macbeth, and Glamis Castle is at the heart of Macbeth's story. Admittedly, the castle as we know it today was built some centuries after Macbeth's reign but his ghost may still walk the grounds… The castle has passed through many royal hands and boasts of 1000 years of history. It may not be the oldest castle on this list but it is certainly one of the most fascinating.
So there you have it! 10 of Scotland's best castles. These castles are located all over the country and some may be hard to find so one of the best ways to get to them is to go on a customised tour of Scotland. We can even arrange overnight stays in Castle's and other Heritage properties.
If you choose to travel with Inspiring Travel Scotland, we will take care of all the planning and preparation leaving you to truly enjoy the landscape and excitement of the country. If you would like to find out more, don't hesitate to get in touch!