If Scotland's tourism industry was flourishing before the TV programme Outlander first hit screens in 2014 (and it was), it's gone from strength to strength since. The phenomenon known as 'the Outlander effect' has seen visitor numbers to locations featured in the series skyrocket – in some cases increasing by as much as 72% in one year alone!
If you're an Outlander fan yourself, that fact might not surprise you. After all, the 18th-century world depicted so compellingly in the programme feels strangely inviting, and it's little wonder so many people want to step into it.
Well, the good news is, you can, and there are many different ways to do it. Take in major locations from Outlander alongside other key Scottish attractions on our Two Cities (Edinburgh and Glasgow) and Outlander Tour. Or, if you prefer to have more control over your itinerary, you can get in touch to craft a custom Scottish tour including Outlander locations. You might also be interested in our other Scottish tours.
Whatever route you pick, you can expect to encounter some beautiful and fascinating places on your trip – many of them with rich histories. For just a taste of what lies in store, here are five of our favourite locations in Scotland connected to Outlander.
You may also want to explore other TV & Film Locations in Scotland. We're happy to combine your favourites along the way!
1. Falkland: Old Inverness in Outlander
Located in the Kingdom of Fife, the small town of Falkland set the scene for the 1940s version and also the 1960s version of Inverness in Outlander. The quiet lanes and historic buildings of the little town of Falkland made it an excellent choice as a stand-in for the larger city of Inverness in seasons one, two, and four of Outlander.
While modern-day Inverness still has more than its fair share of centuries-old architecture, its modern streets made it unsuitable as a mid-20th century filming location.
Outlander in Falkland: What to Look For
Stand in Falkland's main square and you'll soon start to wonder if you've unwittingly slipped into an episode of Outlander!
Spot the Covenanter's Hotel, the pretty building that featured as Mrs Baird's B+B in the programme. That's the site of Claire and Frank's second honeymoon.
Other buildings, like Campbell's Coffee House or the Fayre Earth Gift Shop, are also sure to be familiar.
And when you walk down streets such as Brunton Street, Rottenrow, and Sharps Close, you'll truly feel you've been transported.
Other Outlander Locations in Fife
After visiting Falkland, you should try to spot some of the other Outlander film locations in Fife.
Head to the quaint village of Culross to see Claire's herb garden as well as Cranesmuir. Stop by the 12th century Aberdour Castle and you'll recognise where Claire and Murtagh took Jamie to hide after escaping Black Jack Randall.
You may recognise pretty Dysart Harbour as a stand-in for Le Havre in France. Or perhaps you'd like to see the boat that Jamie and Claire took with Murtagh to France; it's called The Reaper and you'll find it berthed at Anstruther Harbour.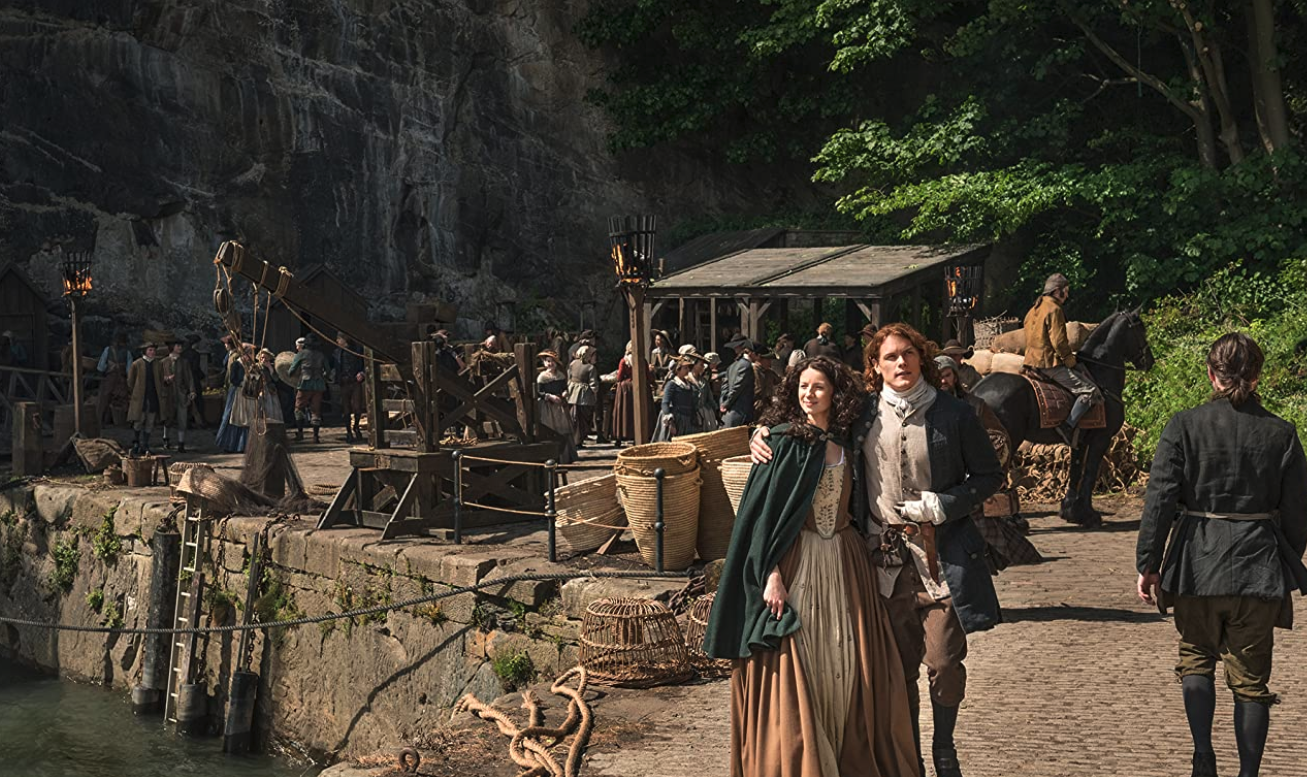 2. Doune Castle: Castle Leoch
Doune Castle is a bit of a star in its own right. Not only has it appeared in Outlander as Castle Leoch, but it has also served as Winterfell in Game of Thrones, and it was also one of the major locations used in the iconic 1975 comedy Monty Python and the Holy Grail.
But fans of Outlander will know it best as Castle Leoch, the residence of the Clan Mackenzie, headed up by the Laird Colum Mackenzie.
The castle features in both the 18th-century and 20th-century portions of the programme, and throughout the course of the series is the site of numerous dramatic events, including a witch trial.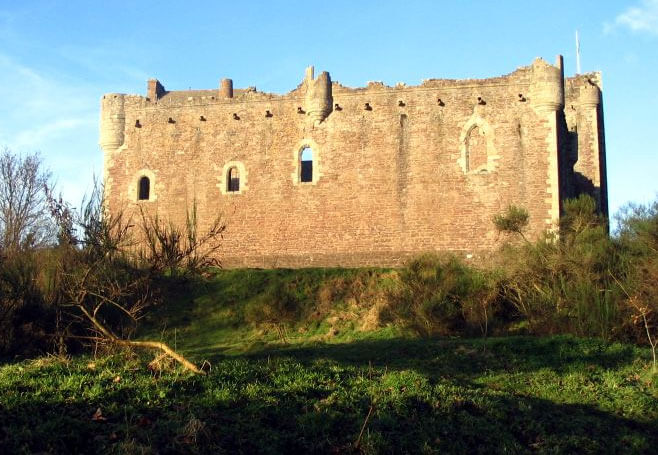 Learn about Doune Castle's long and fascinating history, going back to 1390, as you take an audio tour narrated by the inimitable Terry Jones, of Monty Python fame, and Sam Heughan himself, sharing Jamie's perspective on the filming and experience of Castle Leoch. 
What to Look For at Doune Castle for Outlander Fans
Doune Castle's exterior will be immediately recognisable as Castle Leoch, but Outlander fans will also recognise several interior spaces as well.
The expansive kitchen was clearly the domain of Mrs. Fitz, although the crew created an exact replica of this kitchen for the actual filming. The courtyard and great hall will also seem quite familiar.
And, of course, don't forget Claire and Frank's visit to the 1940s version of this same spot!
3. Linlithgow Palace as Wentworth Prison
Linlithgow Palace is a place of great significance both in our world and in that of Claire and Jamie in Outlander.
The palace appears in Outlander's first season as Wentworth Prison, where Jamie is sentenced to death and suffers under the torturous hands of Black Jack Randall.
In reality, Linlithgow Palace was the birthplace of King James V and his daughter, Mary Queen of Scots, who would eventually be imprisoned and executed by Queen Elizabeth I.
Parts of the palace date back to the 15th century, and while some sections are now ruined, there are still sweeping views from its ramparts. Better yet, fantastic events are held in its courtyard throughout the summer months, including traditional Scottish ceilidhs (country dances with live music).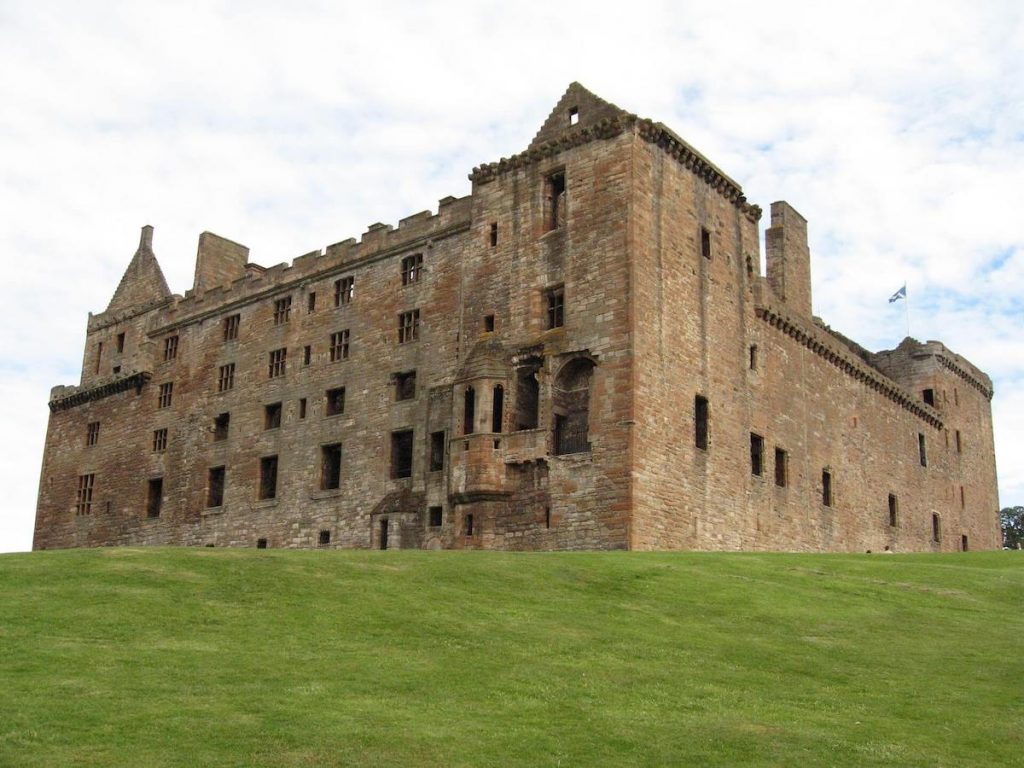 Outlander Scenes at Linlithgow Palace
Exploring the ruins of the palace may feel familiar as you retrace Claire's frantic steps to try to rescue Jamie. In reality, there were some scenes filmed on-site while others used CGI or recreated sets. The atmosphere in the ruins can certainly bring you back in time, however!
4. The Highland Folk Museum in Outlander
The Highland Folk Museum is a hugely ambitious project; it is an open-air attraction that sprawls over a vast area of ground in the Highland village of Newtonmore.
The museum consists of painstakingly recreated shops, houses, and businesses from various periods throughout Scotland's history, and actors in period clothing will welcome you in to share this space and time.
The key point of interest at the Highland Folk Museum for Outlander fans, however, is the wonderful 18th-century village, which was used for both interior and exterior shots of the Mackenzie village in season one.
What should Outlander fans look for?
Look for the familiar blacksmith's shop and step inside each of the houses to see how many you recognise from the programme. You may remember Claire learning to dye the cloth in a traditional manner and you may also recognise the space where Dougal MacKenzie convinces the local villagers to support the Jacobite cause.
5. Glasgow Cathedral for L'Hopital des Anges

The gloomy French hospital in which Claire volunteers during their time in Paris, as well as where she suffers a miscarriage, makes an atmospheric setting for one of the most moving scenes ever to feature in Outlander.
In fact, the location for the hospital is the crypt of Glasgow Cathedral. This spectacular 12th-century building is one of the most recognisable landmarks in Scotland's largest city.
It sits next to equally historic sites, including the huge graveyard that is the Glasgow Necropolis, as well as Provand's Lordship, Glasgow's oldest house.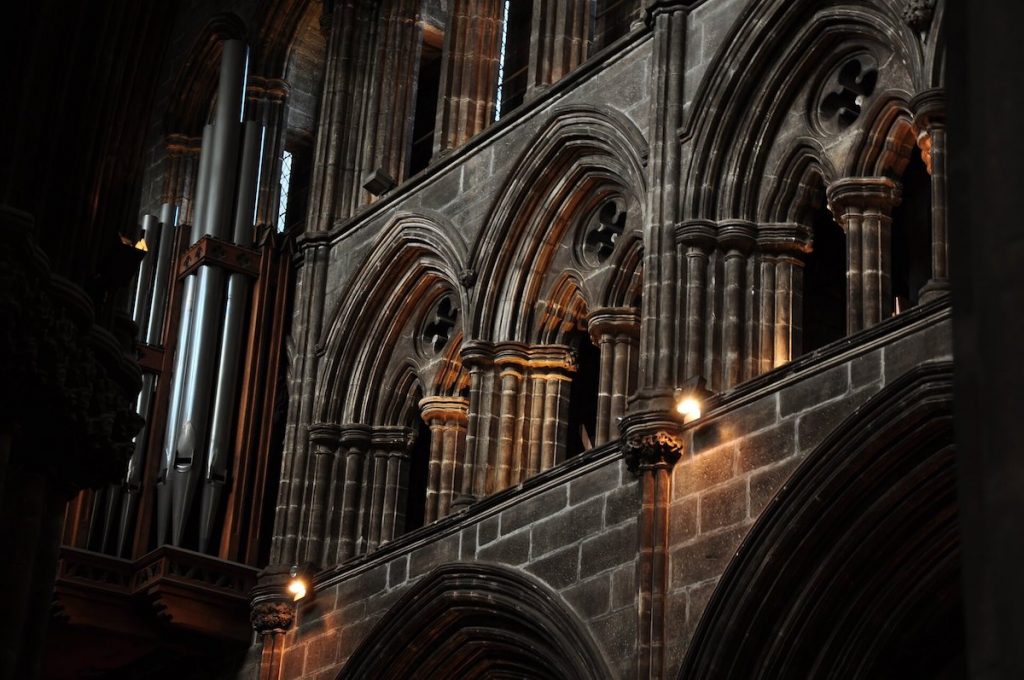 Other Outlander Sites in Glasgow
Whilst in Glasgow, there are a few other Outlander locations you'll want to explore. Wander the paths of Kelvingrove Park to walk in Claire's steps. Of course, hers supposedly were walked in Boston as she pushed baby Brianna in her pram. For another Boston connection, head to the University of Glasgow to see the site that doubled as Harvard University.
From there, walk down Dowanhill Street; you'll recognise it as Furey Street in Boston, where Claire and Frank make their home together and we move from the 1940s through to the 1960s.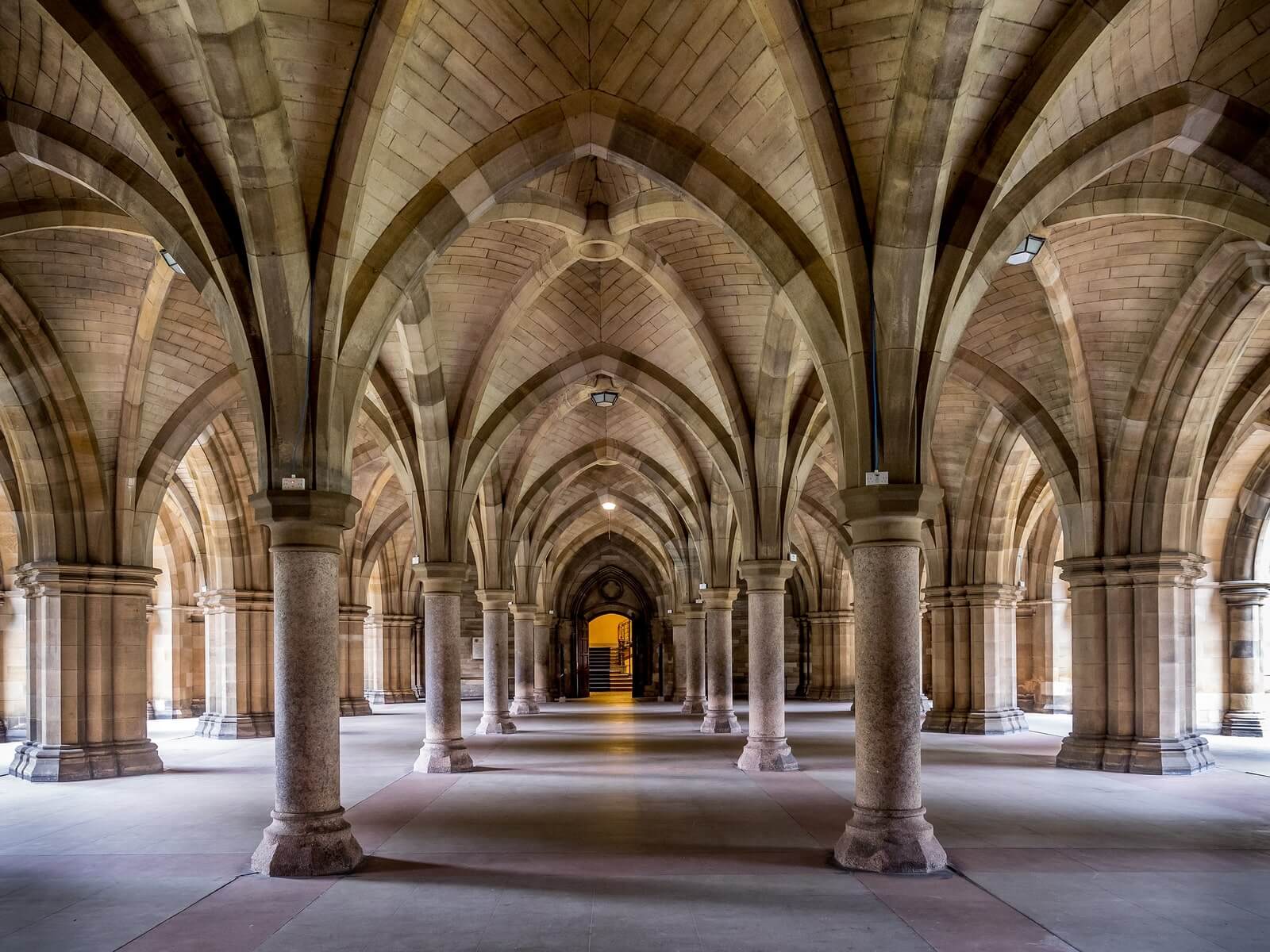 Ready to make your dream journey into the world of Outlander a reality? Get in touch and we will plan your Scottish experience to reflect the wonder and intrigue of Jamie and Claire's exceptional adventure.
---
This post was originally published in October 2018 and updated in June 2021.