Christmas festivities came late to Scotland. For several hundred years following the Reformation, the Scottish people were prohibited, by church and state, from partaking of the holiday season, with Christmas Day only becoming a national holiday in 1958. And yet, today Scotland is surely one of the best places you're likely to find for spending your holiday season. Maybe it is due to those long Scrooge-like years of working through the holidays, but wherever you go in Scotland today, you will find a wonderful festive atmosphere and lots of things to do. Whether you want to stay in the city for shopping and Christmas markets, enjoy a skiing holiday, or escape to a quiet country retreat for mulled wine before log fires, Scotland has it all on offer. Join us as we unwrap some of our top choices for where to spend your winter break in Scotland. And before you begin, be sure to check out our range of packaged Scotland tours or, for those with particular sights in mind, consider our customised tours of Scotland. 
Aviemore at Christmas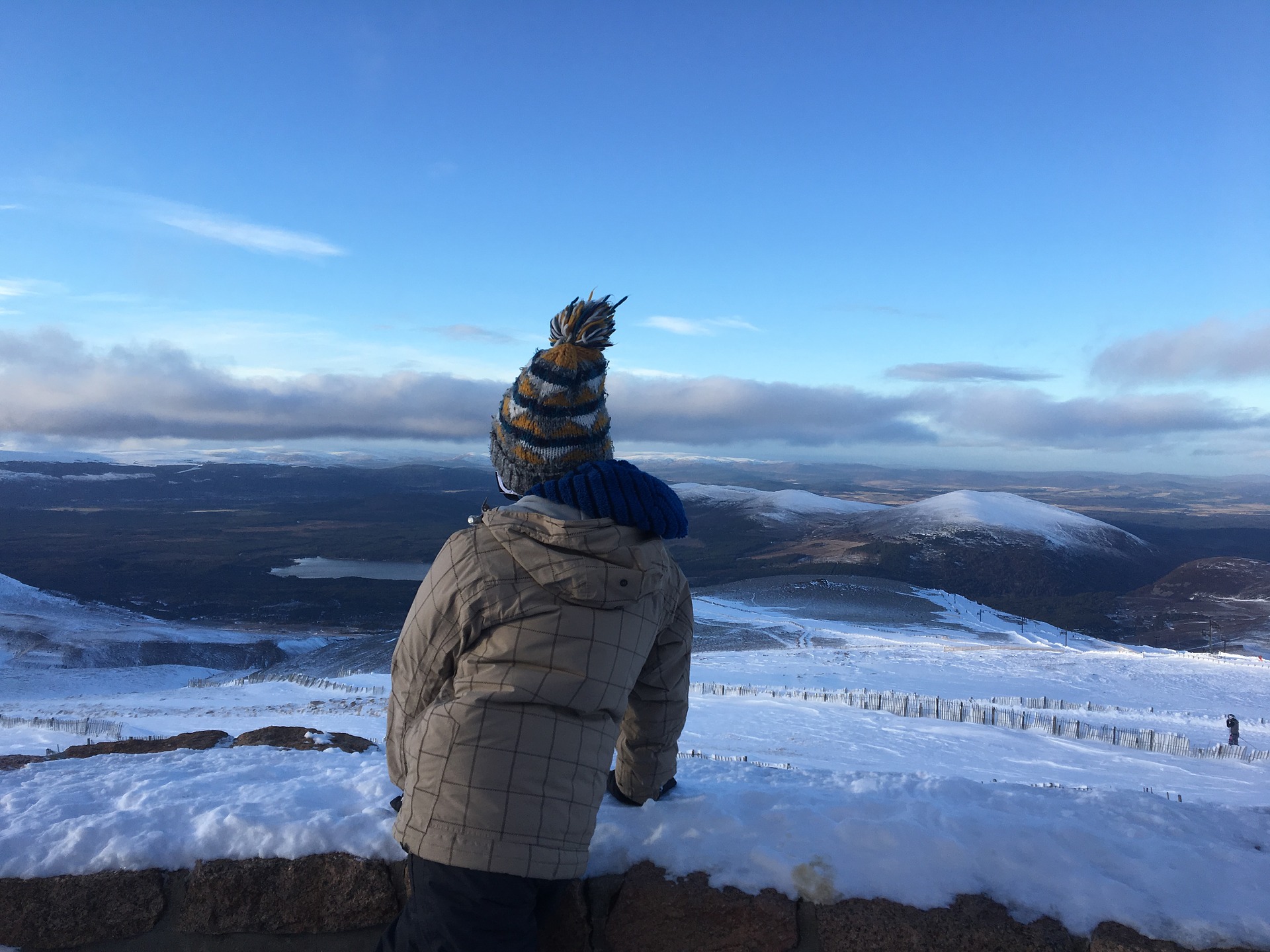 Aviemore
The picturesque town of Aviemore is located within the Cairngorms National Park, the largest national park in all of the UK. The nearby Cairngorm Mountain is the best place in the country for snowsports. With ski lifts and equipment hire on-site, this is an excellent choice for anyone seeking adventure during their Christmas holiday. And you'll also be able to enjoy unforgettable views from the top of the slopes. There's nothing that says Christmas like snow, and you are more likely to enjoy a white Christmas in Aviemore than just about anywhere else in Britain. Local hotels are experts in providing cosy accommodation and delicious festive food. For those travelling with children, the annual winter parade through the town is a must-see. There is live music played and the kids will get to see reindeer as Santa leads the procession. Elsewhere, visitors can enjoy some tremendous winter walks (so long as you have packed suitable winter attire!), or go sledding with huskies, an experience unlike any other.
The Isle of Arran at Christmas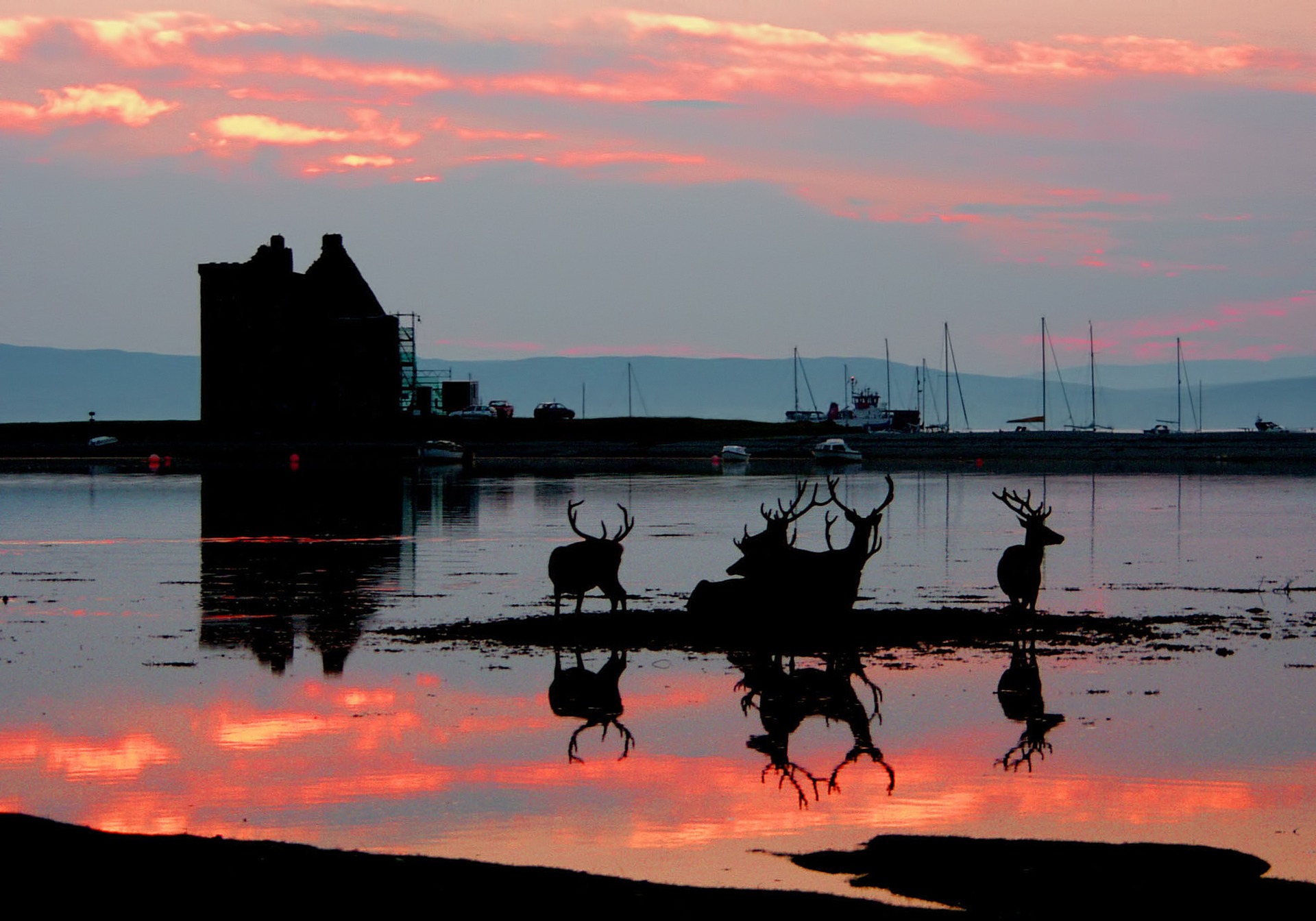 Isle of Arran
A nature lover's paradise, the beautiful island of Arran is accessible from Glasgow within a couple of hours, making it an excellent choice for those wishing to escape to the country during the holiday. Arran's diverse landscape of beaches, forests, mountains, and lakes is home to otters, golden eagles, seals, and lots and lots of red deer. Here you will enjoy the magical scenery and second-to-none delicious local produce. The Isle of Arran Distillery has been producing some of the most exciting whiskies to come out of Scotland in recent years and provides excellent tours. Meanwhile, the centuries-old Brodick Castle hosts lots of Christmas events each year that are suitable for all ages. 
Glasgow at Christmas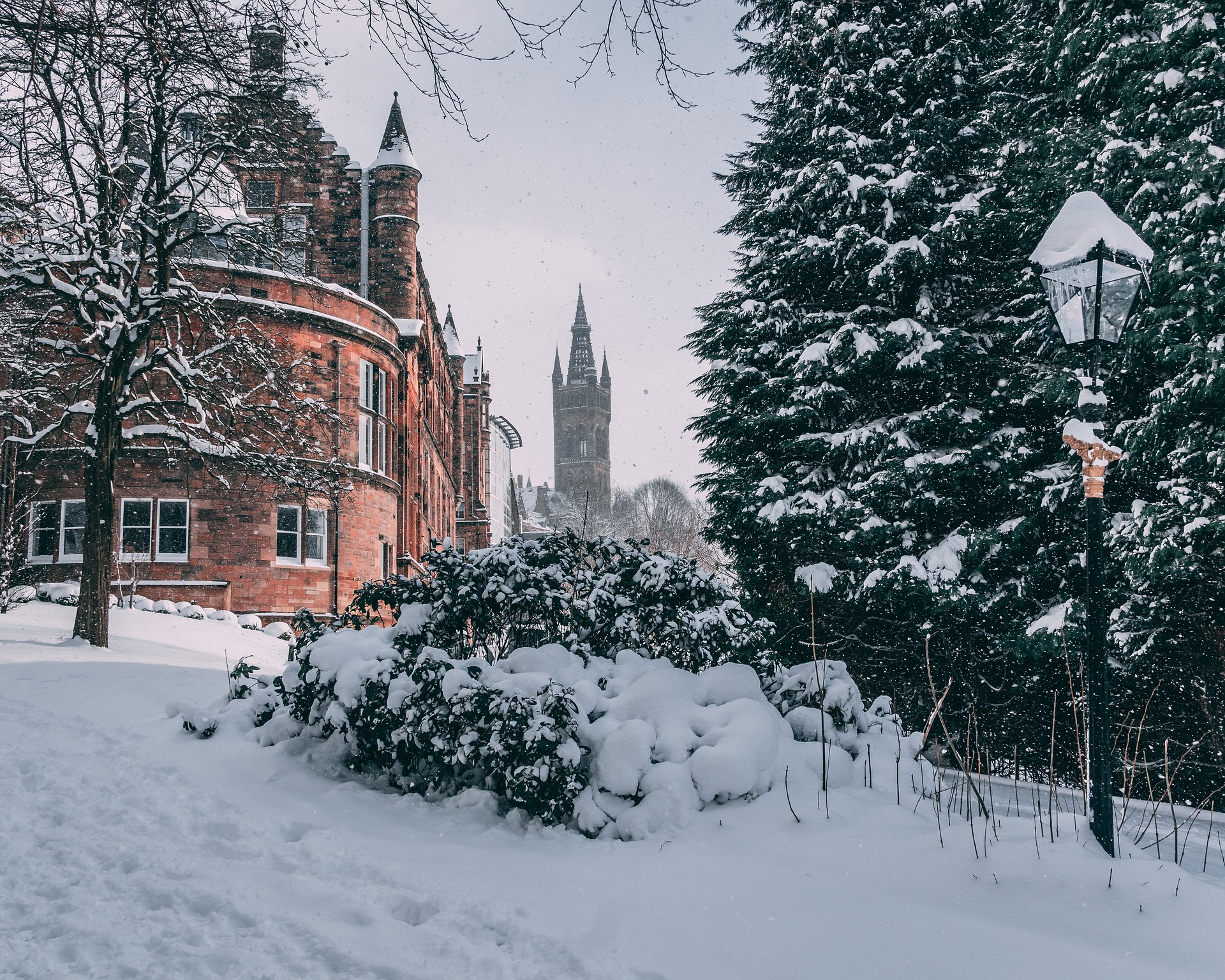 A snow-covered University of Glasgow
For those wishing to do some shopping during their Christmas stay in Scotland, there's no better choice than Glasgow. Buchanan Street, which runs through the city centre, ranks among the UK's busiest shopping districts all year round and is home to historic British stores such as the John Lewis and House of Fraser department stores and the beloved Hamleys toy shop. The city also offers plenty of scenic locations where you can soak up the holiday atmosphere, such as the university district and Kelvingrove Park in the city's West End. The city hosts a large Christmas market, and, in the evenings, you will have no difficulty finding splendid places to eat and drink.
Isle of Skye at Christmas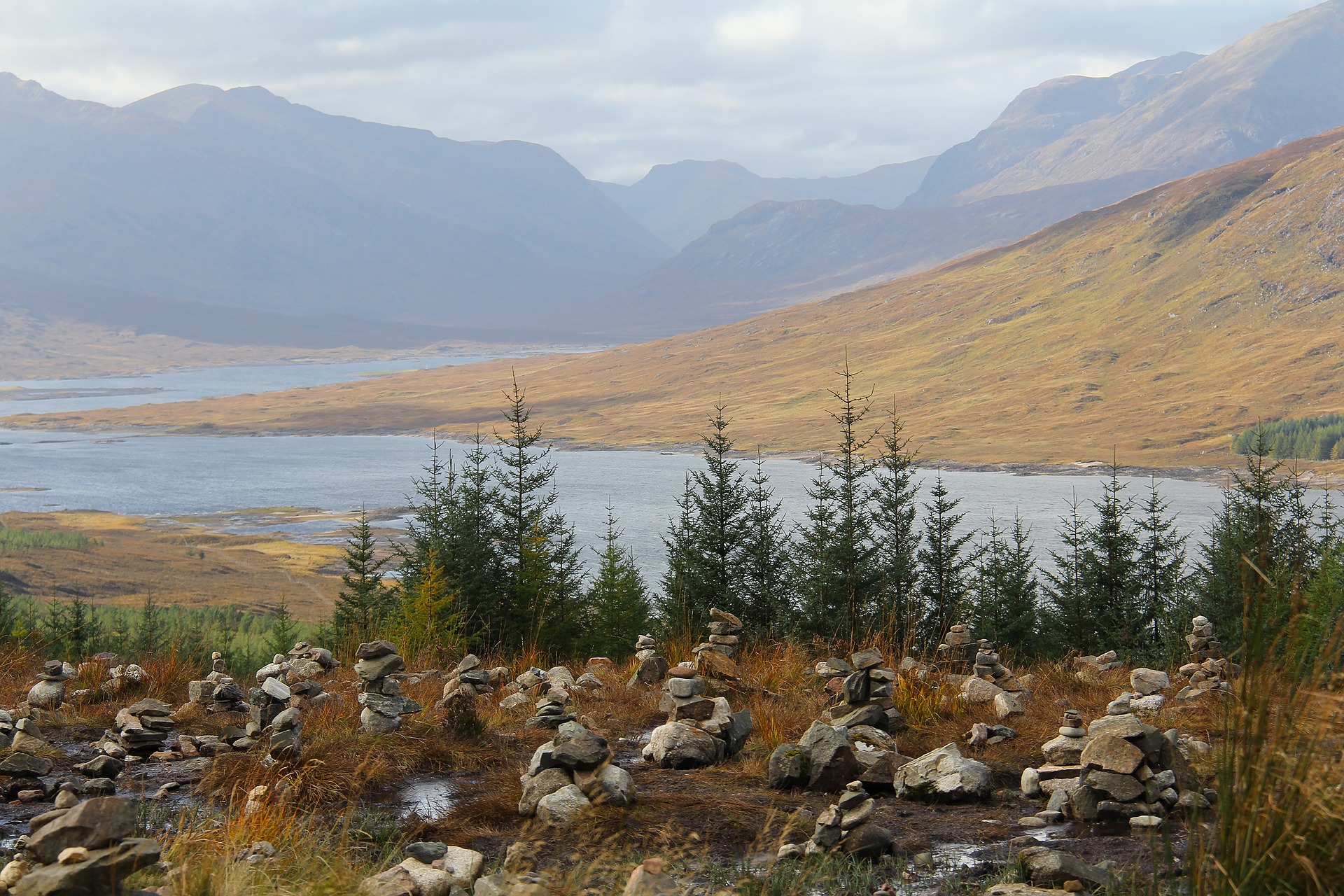 Inn on Isle of Skye
In a country renowned internationally for the majesty of her landscapes, the Isle of Skye must be a contender for the most scenic place in all of Scotland. Local sights include the cinematic Eilean Donan Castle and the Talisker whisky distillery — both of which stay open for tours through much of the holidays. But it is for the island's natural beauty that we include it on our list. Skye's lack of light pollution makes it a wondrous location for stargazing and if visitors are particularly lucky, they can even catch sight of the Northern Lights. Wrap up warm in the evenings and enjoy a stroll before getting warm in front of the fire in one of the island's many inns. 

Edinburgh at Christmas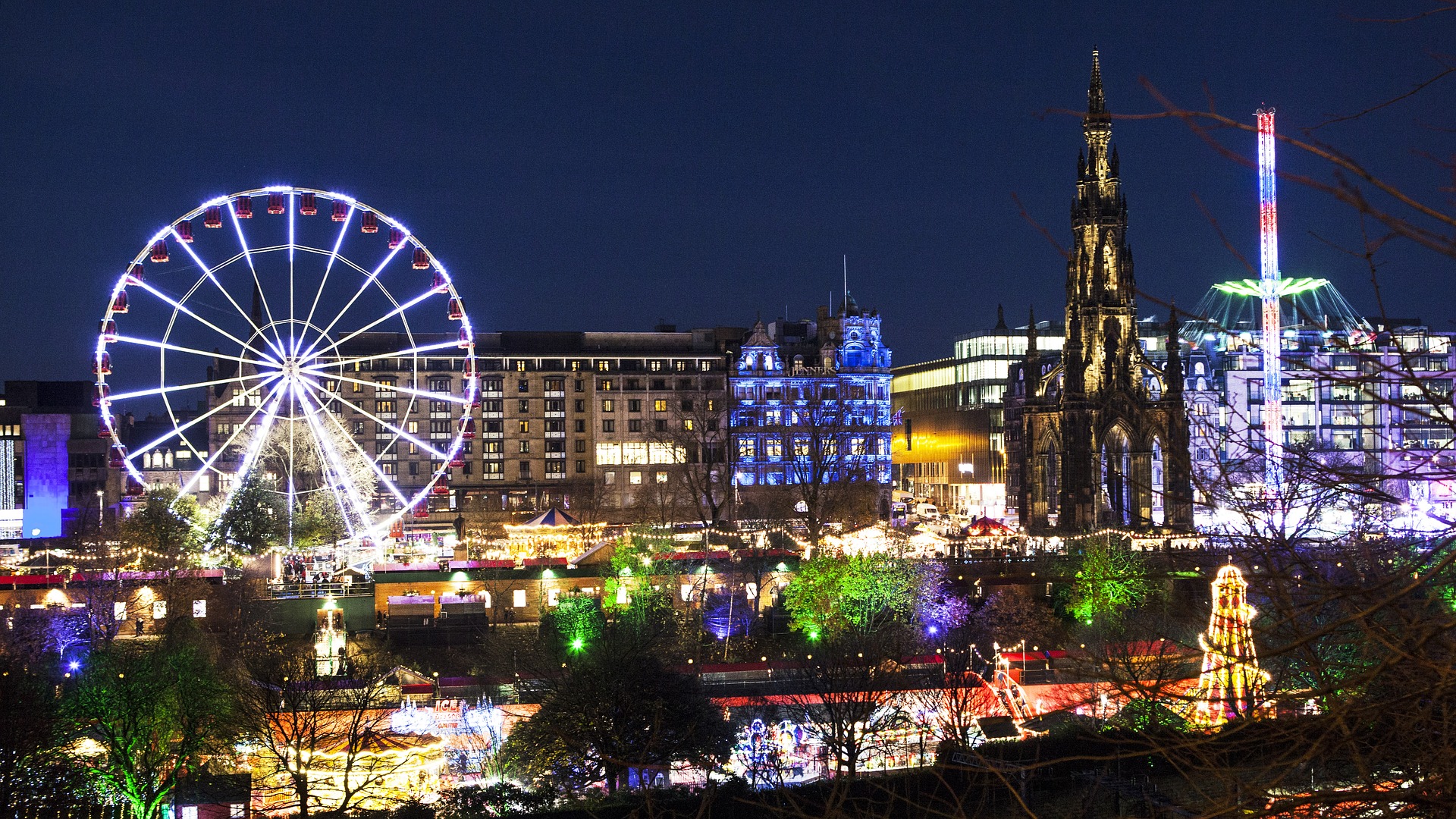 Edinburgh
Our final choice is Scotland's capital city. While retreats to Scotland's more secluded areas offer restorative natural beauty, Edinburgh has a magic all of its own. Its labyrinthine cobbled lanes and historic architecture are reminiscent of fairy tales. During the day, explore on foot one of Europe's great capital cities. Mix visits to cultural sites such as the unparalleled National Gallery with Christmas shopping in a city known for its array of independent businesses. At night, enjoy the city's large Christmas market. And, for those lucky enough to be staying until the new year, be sure to experience Edinburgh's extraordinary Hogmanay celebrations. As one of the largest New Year's Eve celebrations in the world, this street party comes with live music by major recording artists and a firework display on a mammoth scale. 
This brings to a close our run-through of some of our favourite places to spend Christmas in Scotland. If you have any questions at all, we would be happy to hear from you, so don't hesitate to get in touch. Come and see the best Scotland has to offer!