Why you Need to Visit at least a few Scottish Islands!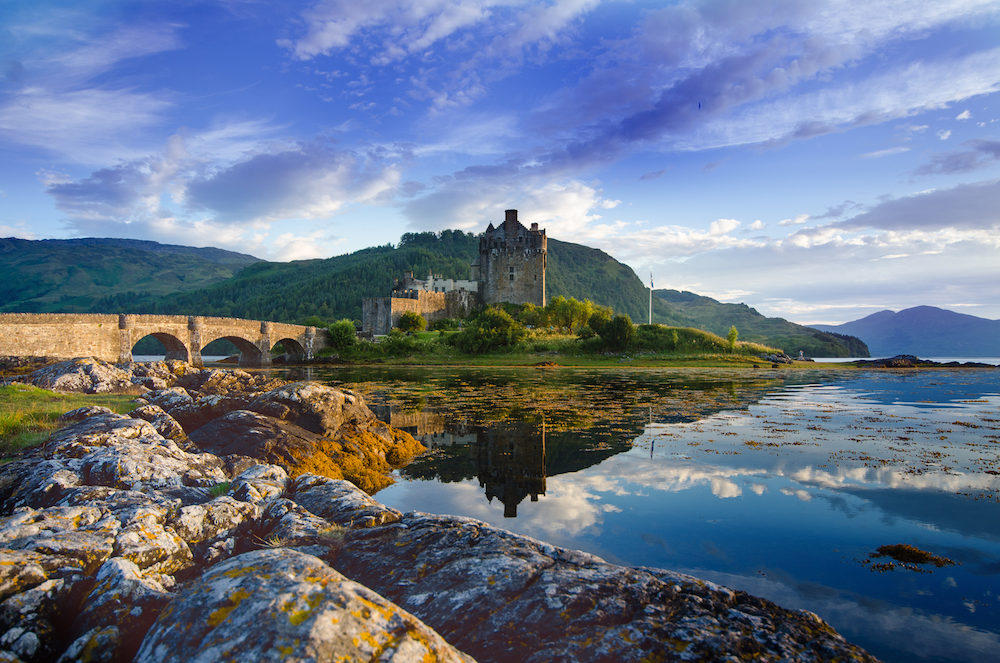 Last month, we wrote a blog explaining why you need to visit the Scottish highlands at least once and the natural follow-up is for us to argue the case for some of Scotland's incredible islands. Take just a quick glance at a map of Scotland and you'll notice that its ragged west coast is packed with a mixture of small and large islands. Scotland's islands all have their own character, offering difference experiences to those who visit them. You could write whole books about each island — and people have — but our goal with this blog is to give a brief overview of Scotland's four most famous islands, summarising what you can expect to find there. Our hope is that this guide inspires one or two readers to include at least one Scottish island on their next big Scottish adventure. If this blog does inspire you, check out our customised Scotland tours page and tell us everything you'd like us to include on your perfect, tailormade Scotland trip!
Arran – Scotland in Miniature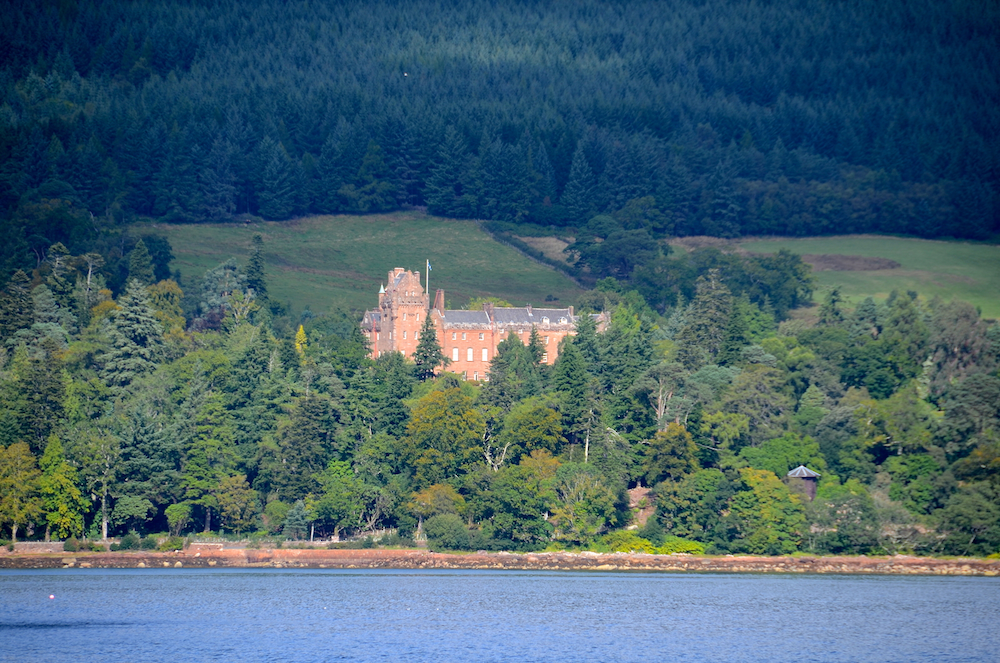 Arran feels like the best start to this guide as it is often referred to as "Scotland in Miniature". This is because it falls under the same Highland Boundary Fault that crosses mainland Scotland, turning it into the Lowlands and the Highlands. This means that Arran is also split into its own much smaller Lowlands and Highlands. This feature means that Arran is considered a geologist's paradise, but its rock formations and general landscapes can be admired and appreciated by the layman too. 
Arran is one of Scotland's larger islands, and it can be found just off the west coast of Ayrshire and there is plenty to see and do over a 3- or 4-day stay. You can visit Brodick, the main village on the island, and enjoy an ice cream, pub grub, fish and chips, and the other trappings of an idyllic Scottish seaside town. Travel north a little and you'll find Brodick Castle — which is widely regarded as one of the finest castles in Scotland. However, the grounds and gardens around the castle are just as impressive. If you're looking for a little physical exercise, you can climb Goatfell — the highest mountain on the island, at 874 metres. If you move to the west of the island, you'll find Machrie Moor Stone Circle. Despite the name, there are actually several stone circles, all dating back to approximately 4,000 years ago. You will also find a burial cairn on the coastal path that dates back to the Bronze Age. Arran is a truly unique island with lots to offer first-timers and plenty to reward returning visitors.
Islay – A Whisky Paradise

Islay can be found approximately 50 miles to the west of Arran, across from the Kintyre Peninsula. Islay is a beautiful island with pristine sandy beaches and idyllic seaside villages, the houses painted white, sitting out against the island's lush, green fields. However, while the island's beauty is undeniable, it plays second fiddle to Islay's famous whisky distilleries — of which there are nine! Islay is arguably the centre for Scotland's whisky tourism and it even holds a whisky and music festival in May each year called Fèis Ìle. The peat that can be found on the island finds its way into the whisky distillation process, giving many — but not all — of the Islay whiskies a deep, peaty flavour. 
For Scottish whisky enthusiasts, Islay is a dream come true. You could spend nine days in Islay, taking a tour of a different distillery each day, or you could just visit one or two of your favourite distilleries. Laphroaig is, arguably, Islay's most famous whisky. Part of what makes Laphroaig famous is its strong peaty flavour, which completely divides whisky lovers. You'll find the Laphroaig distillery to the east of Port Ellen, on the south of Islay. Just to the east of the Laphroaig distillery you'll find both Lagavulin and Ardbeg distilleries. Lagavulin has been in competition with Laphroaig since its inception in 1816, one year after Laphroaig opened up shop. While some Lagavulin whiskies have a deep, peaty flavour, the 16-year-old Lagavulin smooths out and is one of the island's most-famous and best-loved exports.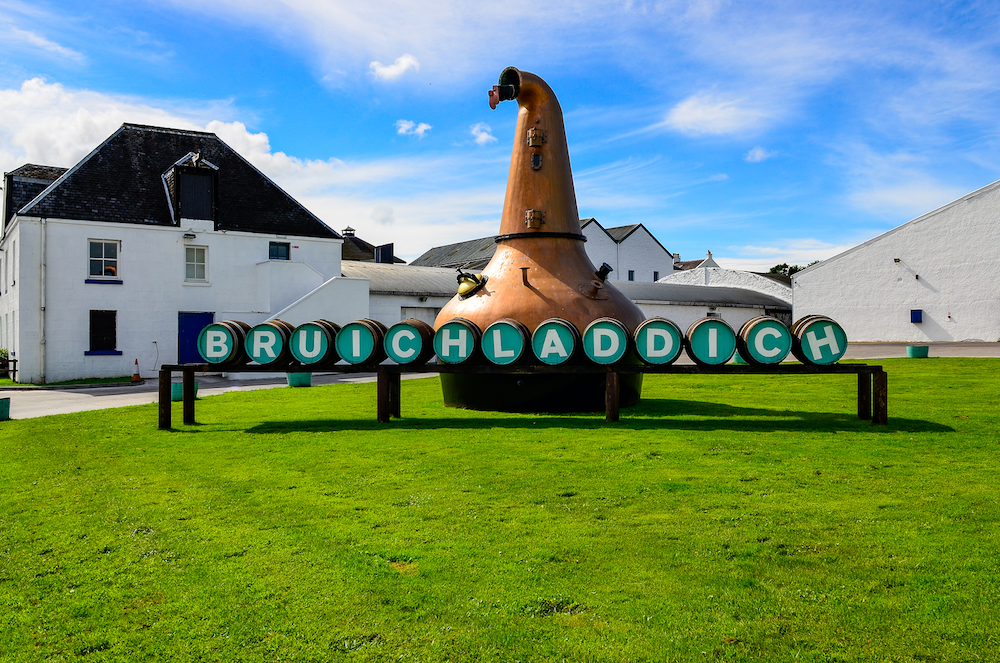 Moving to the Rhinns of Islay, the island's north-western peninsula, you'll find two of Islay's other big whisky heavyweights: Bruichladdich and Kilchoman. While Bruichladdich was founded in 1881, it has closed down several times and swapped hands over the last 140 years. Despite this, Bruichladdich is currently right on the forefront of modern Scottish whisky production, borrowing the idea or terroir from French wine production. Terroir is the idea that the land, the weather, and other environmental factors affect the crop and impact the flavour of the whisky. If you're interested in whisky, then you may like to read our brief guide to Scottish whisky before you visit!
Skye — The Winged Isle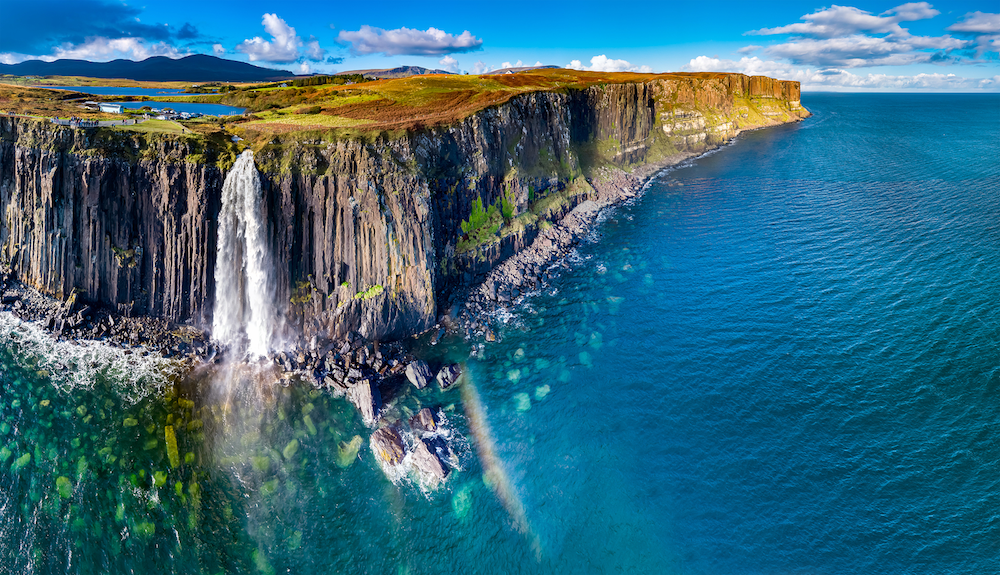 Where Skye, also referred to as "The Isle of Skye", got its name is somewhat of a mystery, as it is believed to have derived from a variety of sources. One theory is that it takes its name from the Celtic word Skitis, which means 'winged' and other theories connect the name to the Gaelic and Norse settlers that followed after the Celts. Skye's popularity in recent years has absolutely soared and this has led to over tourism in some instances. However, the popularity is undeniably linked to the Isle of Skye's breathtaking natural beauty. Skye is the largest island in the Inner Hebrides group of islands, found to the north-west of Scotland. With an area of 639 mi2, there is a lot of ground to cover when you visit.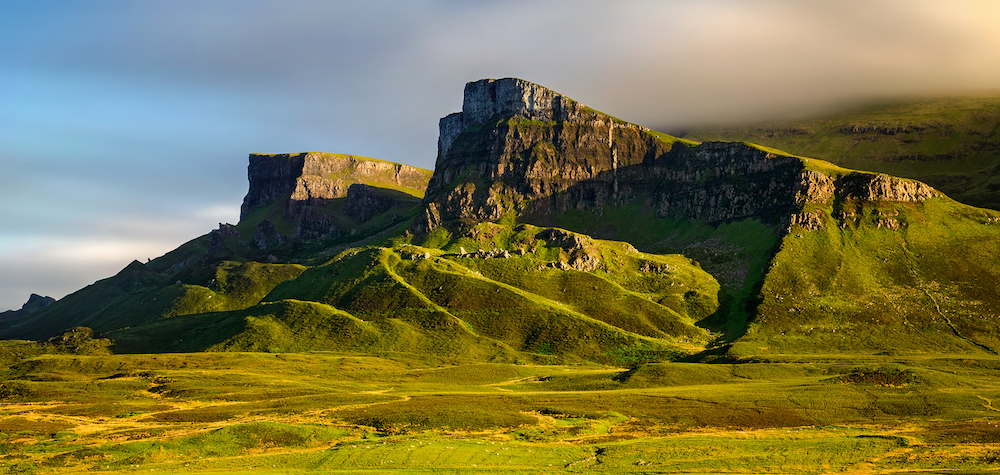 While all of Scotland's Islands can boast beautiful scenery, Skye is, arguably, the most impressive. Most guests come specifically to see some of the island's most beautiful spots, and it's perhaps no surprise that the age of social media – of Pinterest and Instagram — has produced thousands of images of Skye. In fact, it's very likely that the profluence of gorgeous online images has directly contributed to Skye's rise in popularity. Walk the Quiraing, a circuit of hills, to sample the island's incredible landscapes. This walk will take about 3–4 hours and it starts off close to Uig, on the north-east of the island. The Quiraing might be the most impressive walk you ever go on as you will pass other famous Skye features, such as the Needle and the Prison, and it offers high relief views of Skye and the smaller Islands of Raasay and Rona. If you're a photographer and you're visiting Skye, walking the Quiraing is an absolute must. 
The Old Man of Storr is another unmissable natural feature on Skye. It's found not far from the Quiraing and it's a very popular spot for hikers and hillwalkers. This fascinating rock formation atop a hill is one of the most striking natural landscapes you'll ever see — and the views from the top of the hill make the climb more than worth it. Moving to the south of the island, at Glenbrittle, you'll find the Fairy Pools. These picturesque rock pools are becoming increasingly popular and it's due to the sense of peace and tranquillity of the pools, the springs and waterfalls that feed into them. There are so many things to see and do in Skye that we've only scratched the surface, but there's one more Scottish island we'd like to discuss in this guide…
The Isle of Mull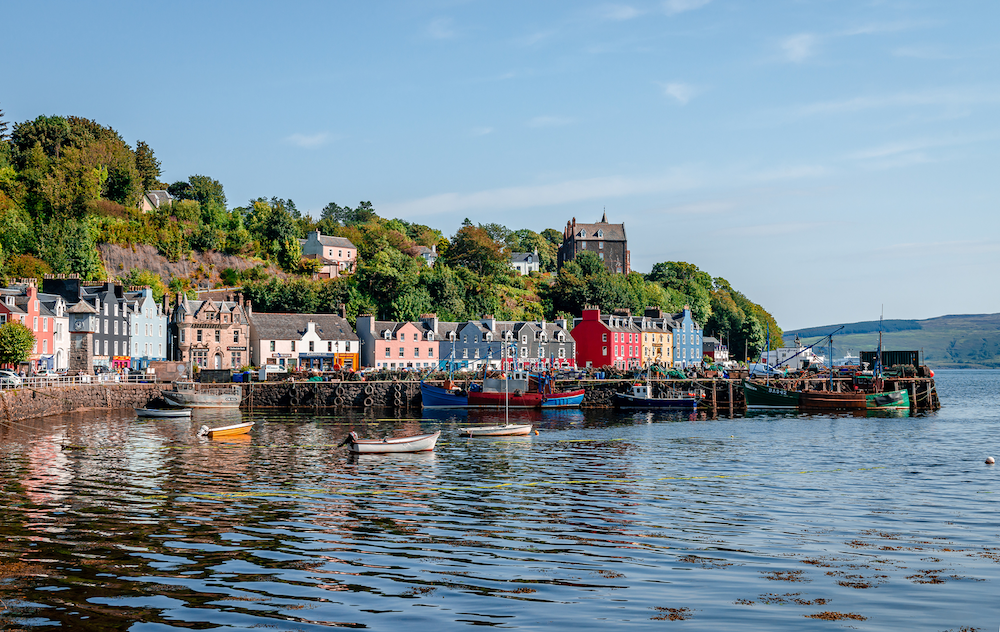 Last, but certainly not least, is the Isle of Mull, which is often just referred to as Mull. Mull is further north than Skye, and it's the second biggest of the Hebrides islands — second only to Skye. There is plenty to see and do over a 3-4 day stay, and we hope to inspire a few readers to add it to their itineraries. Mull has castles, picturesque seaside towns, and enchanting wildlife — and it's only a short journey away from Staffa, which we'll discuss later on.
Mull is one of the best places in Scotland for nature lovers as there are plenty of opportunities to go out in search its majestic sea life. You can go out on a boat in search of seals, otters and whales, or you can visit the nest areas for the island's famous kittiwakes and fulmar birds, as well as black guillemots and great black backed gulls. You can also take a short boat ride to the smaller islands around Mull where you'll find nesting razorbills, guillemots, and puffins in even larger numbers. 
While in Mull, make sure you visit the town of Tobermory, the capital of Mull. Dating back to 1788, Tobermory was designed around its natural harbour, with parts of the town stretching up into the hills beyond. The multi-coloured buildings on the harbour make Tobermory one of the most visually striking ports in Scotland. In Tobermory, you can visit the Mull Museum, the Marine Visitor Centre, take in a show at the Mull Theatre, and you can take a guided tour of Tobermory Distillery. 
To the west of central Mull — just a short boat ride away — you'll find the Ilse of Staffa. This small island is only really easily accessible from Mull and it is well worth the additional effort required to get there. Staffa is unlike anywhere else in Scotland, due to the densely packed pillars of basalt that make up most of the island. Staffa comes from the same rock formation as The Giant's Causeway in Northern Ireland and Stuðlagil Canyon in Iceland. However, for many who visit it, Staffa is often regarded as the best, most-impressive example of this incredible, otherworldly phenomenon. 
That's all we have time for in this guide. We've only covered 4 of Scotland's 130 inhabited Islands, but we've tried to discuss the most important ones. Whether you visit all of these islands or just one or two, you're guaranteed to have an incredible time. Scotland's wild and varied landscape has so much to offer visitors, and no two of its islands are the same. We hope this guide has inspired one or two readers to visit the Scottish islands. If you have any questions about the Scottish islands and would like help to organise your next big Scottish adventure, please don't hesitate to get in touch.